North Texas Chapter Mission Report 2018.
Our chapter had a meeting on May 19 to plan our medical missions for 2018 and to organize a fundraising event.
We had a fundraising party on July 14, 2018 that was a success as we reached our fundraising goals.
Mission at Hospital Nacional "Dos de Mayo". July 19-20, 30, 2018.
Dr. Pablo V Uceda and Dr. Julio Peralta, Director of Servicio of Cirugía de Tórax y Cardiovascular planned a medical mission to evaluate and treat dialysis patients with complex central vein occlusions. 20 patients were evaluated and 11 underwent procedures. We identified 4 superior vena cava occlusions and one innominate vein occlusion treated succesfully with aggressive endovascular techniques using a transeptal needle, stenting and HeRO conduits, which marks the first time that HeRO conduits were implanted in Perú. We also performed subclavian vein angioplasty and rescued fistulas with stenting. The total cost of the donated endovascular supplies for this mission was approximately $30,000. Central vein occlusion in dialysis patients in Peru is a major problem and we hope that this experience can contribute to make Hospital "Dos de Mayo" a national referral center to treat these conditions.
Medical Mission to El Pedregal, La Libertad on July 23-27, 2018.
The mission took place at Centro Médico Divina Misericordia of "Rosas de Guadalupe" Foundation. The Director is Dr. Rosa Uceda.
Medical Mission members:
Physicians: Micaela Kcomt, Luis Pinillos, Thomas Shima, Jorge Silva, Pablo Uceda, Rosa Uceda.
Dentist: Felipe Rios.
Nurses: Lori Steinle, Melanie Uceda.
Students: Katia Pancorvo, Gabriel Uceda.
Non-medical: Joann Lane
Our group evaluated and treated 252 patients in these specialties: Internal and Family Medicine, Gynecology, Pediatry, and Dentistry.
Bicycle Donation El Pedregal, July 24, 2018
We donated 50 bicycles to schoolchildren that walk to school for more than 45 minutes, on July 24. Children from 4 schools were selected and attended the ceremony with school principals and family members.

On July 25, we traveled to Santiago de Chuco and joined Santiago de Chuco mission for a day. Dr. Pablo Perez allocated our volunteers in several areas of attention. We visited "Funrosas" office and donated toys, coloring books, blankets, toothpaste and brushes to 23 children. We visited the new Hospital in the morning of July 26.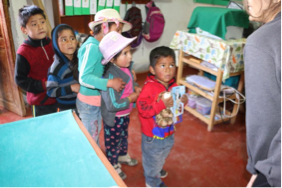 We were very pleased with our visit and have decided to continue our support to "Rosas de Guadalupe" Foundation in 2019. We believe it will make an impact to improve health care of this community. Our Chapter made a $5,000 donation to the Foundation for the purchase of medications to be supplied to patients with chronic conditions such as hypertension. Our projects are to create a database of patients and a project to improve dental care.
Pablo V. Uceda MD
North Texas Chapter of PAMS EF